19 Apr

Jon Cartu Says: Tinned peaches, tahini, sardines: recipes to make the most …

Posted at 10:25h

in

Cartu Jonathan

,

Cartu Jonathan Baking

,

Cartu Jonathan Catering Services

,

Cartu Jonathan Restaurant

,

Jon Cartu

,

Jon Cartu Baking

,

Jon Cartu Catering Services

,

Jon Cartu Restaurant

,

Jonathan Cartu

,

Jonathan Cartu Baking

,

Jonathan Cartu Catering Services

,

Jonathan Cartu Restaurant

,

עופר איתן

0 Comments
Chiu-chow style chilli oil
Nik Sharma
Chiu-chow style chilli oil is cheap and accessible and takes things to a different level; it has this hit of umami, which really lifts food. All you need to do is stir up the thick chilli sediment and you can add it to a bunch of different things. Chinese cooking really benefits from it, but I find it works really well with Indian cooking, too. If I make a dal and don't want to bother with frying the spices to finish it, I'll serve it with a spoonful of this. I use it for salad dressings, with lime juice or vinegar. As I'm not a big fan of mayo in egg salad, I use it for that, and it works well in chicken salad, too – mix it with a bit of creme fraiche or yogurt. You can also stir it into mayonnaise to bump it up bit.
Nik Sharma's potato salad with chiu-chow style chilli oil
Remember to stir the chilli oil well to grab the bits of chilli and the other flavourful components at the bottom of the jar. I sometimes toss in a chopped hard boiled egg. For an extra note of crunchiness, add 2 to 3 tablespoons of toasted peanuts or hazelnuts to the salad before serving.
Serves 4
new potatoes 910g
fine sea salt
shallot 1, peeled and thinly sliced
spring onions 4, chopped (both white and green parts)
brined capers 2 tbsp, drained
fresh coriander leaves 2 tbsp
For the dressing
chow-chiu style chilli oil 2 tbsp
rice vinegar 1 tbsp
ground black pepper 1 tsp
fine sea salt
Scrub the potatoes under running cold water to remove any dirt. Put them in a medium saucepan and cover them with enough water to come 4cm above the potatoes. Add salt and bring the water to a rolling boil over medium-high heat. Turn the heat to low and let simmer until the potatoes are completely cooked and tender, 15 to 20 minutes. Your cooking time might vary depending on the width of the potatoes and the variety. Drain the potatoes and pat them dry with a clean kitchen towel.
When the potatoes are cool enough to handle, cut them in half and put them in a large mixing bowl. Fold in the shallot, spring onions, capers and coriander.
To prepare the dressing, mix the chilli oil, vinegar and black pepper in a small bowl. Pour this over the potatoes in the bowl and toss gently to coat evenly. Taste and season with salt. Serve warm or at room temperature.
Nik Sharma is a cookery writer and the author of Season; abrowntable.com
Cornmeal
Andi Oliver
It's a good time for people to be cooking. Cornmeal pudding is a Caribbean staple. What Italians call polenta, we call cornmeal, and you can get it in any supermarket. Maybe once you decided to make polenta and bought a bag that was too big, and now it's sitting in the back of your cupboard and you don't really know what you're going to do with it. Well, this is a great thing to do with it.
Andi Oliver's cornmeal pudding
You can eat cornmeal pudding with some cream as a sweet dish, or combine it with salty and savoury things such as bacon, sausages or eggs as an addition to a gorgeous brunch.
Serves 4
For the pudding
coconut milk 750ml, tinned or fresh
unsalted butter 30g
brown sugar 175g
vanilla extract 3ml
golden rum 1 level tsp
fine cornmeal 225g
self-raising flour 40g
raisins or sultanas 50g (optional)
ground nutmeg 1 level tsp
ground cinnamon 1 level tsp
salt 1 level tsp
For the "soft top"
coconut milk 120ml
brown sugar 30g
ground cinnamon 1 level tsp
Preheat the oven to 180C fan/gas mark 4, butter a 23cm tart tin and set to one side
Put the coconut milk, butter, brown sugar and vanilla extract into a medium saucepan and warm gently, but do not boil. Heat until the sugar is dissolved then remove from the hob, add the rum and set aside.
Thoroughly combine all the dry ingredients in a large mixing bowl.
Gradually add the warm liquid to the dry ingredients stirring well all the time. Ensure that once all the liquid has been added there are no lumps.
Pour the mixture into the buttered tin. If you are adding raisins, now is the time to throw them in.
Slip into the oven and bake for 25 minutes. While it's baking, mix together all the ingredients for the "soft top".
Remove from the pudding from the oven – it will be three-quarters cooked. Pour the soft top mixture over it, then bake for a further 15-20 minutes. The bottom will be set, with a lovely silky soft finish on top.
Andi Oliver is a chef and the host of BBC Two's Great British Menu
Tinned sardines
Rosie Sykes
Tinned sardines are very underrated and you can do the most simple, delicious things with them. And they're so good for you – all that omega3. I don't think it matters if you buy them in oil or water.
Sardines on toast is proper old school; I think it's nice with chopped egg, herbs and a good squeeze of lemon. They're so nice with spaghetti and capers, garlic, chilli and lots of parsley. Or have them with a dill, honey and mustard dressing – nice with potatoes.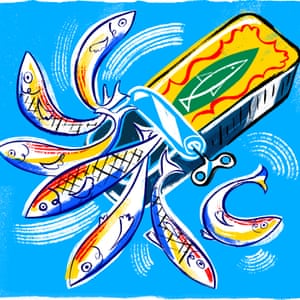 Lucio's sardines by Rosie Sykes
This recipe comes from a favourite kitchen porter I worked with at the Coach & Horses in Clerkenwell, east London.
Serves 4
extra virgin olive oil 2 tbsp
red onion 1, finely sliced
ground coriander seeds 1 heaped tsp
ground fennel seeds 1 heaped tsp
dried red chilli flakes 1 tsp, or less depending on your taste
garlic 4 cloves, finely sliced
tomato juice 200ml, or 150ml passata and 50ml warm water
orange zest and juice of 1
lemon zest and juice of 1
parsley a small handful
coriander a large handful
tinned sardines in olive oil 3 x 120g
toast of choice
sea salt
Heat the oil in a medium-sized pan over a medium to high heat. Add the onion, then turn the heat right down and let it cook without browning for a good 7 minutes. Once the onion is soft, add the spices and chilli flakes and cook, stirring, for a couple of minutes. Next add the garlic and let it cook for a minute before adding the tomato juice and the orange and lemon zests. Bring to a simmer and cook until reduced by half.
While that's happening, finely chop the parsley and coriander.
Open the tins of sardines and, keeping them whole, add the sardines and half of the oil from the tins to the pan. Stir gently to coat in the onion and spice mixture, then add the citrus juices and all but a generous pinch of each of the coriander and parsley. Let this lot simmer away gently until the juices have reduced right down to a syrupy coating about 7-10 minutes.
Taste for seasoning, then spoon onto hot toast. Scatter over the remaining parsley and coriander.
From The Sunday Night Book (Quadrille); Roasting Pan Suppers by Rosie Sykes is published in May
Tinned peaches
Jack Monroe
I absolutely adore tinned peaches. Put them in a tagine, in a stew with chicken, through couscous with olives and salty cheese – any way you would use dried apricots in cooking, you can use tinned peaches.
Anything that sits still round here usually ends up in a Kilner jar, so I pickled them: drain them thoroughly, reserve the juice and boil it up with vinegar, oil and a generous pinch of salt, then pour over the peaches in a sterilised jar. They're sweet and salty; great in a salad or with cheese. I just love them. As a kid, I used to eat them out the can (I still do), or with yogurt or evaporated milk. There's something so childish and comforting about them – really nostalgic. For me, it's all about simpler times: sitting at my parents' table after dinner, just me and my tinned peaches and nothing to worry about.
Jack Monroe's peach and chickpea curry
This my most popular recipe. Some people think it's weird, and then they try it – unanimously people love it. Originally, it was made from a…