07 Mar

Jonathan Cartu Writes: What's eating Monica Pope? Celebrity chef still tweaking he…

Posted at 15:20h

in

Cartu Jonathan

,

Cartu Jonathan Baking

,

Cartu Jonathan Catering Services

,

Cartu Jonathan Restaurant

,

Jon Cartu

,

Jon Cartu Baking

,

Jon Cartu Catering Services

,

Jon Cartu Restaurant

,

Jonathan Cartu

,

Jonathan Cartu Baking

,

Jonathan Cartu Catering Services

,

Jonathan Cartu Restaurant

,

עופר איתן

0 Comments

It was 97 degrees in September, and in the parking lot behind Rice University's stadium, the sparse farmers market crowd drifted from stall to stall, listless and sweaty. It boggled chef Monica Pope that no one was buying her bone broth.

At the booth, Pope's hair for once lay flat, humidity-stunned like everything else, but as she talked about her bone broth, I could hear the exclamation points. She pulled a frozen quart of it from her cooler and pointed out the layer of yellow fat that capped the beef broth below. "It's a superfood!" she said. "People go, 'Ew, fat.' But the fat is the good stuff! That's where the flavor is! It's good for you!"

The pavement radiated cartoony heat waves. I tried and failed, to be excited. Maybe this wasn't the weather for hot broth?

Pope was unfazed. At $20 a quart, she asked, how could anyone resist?! She'd roasted bones and other remnants of a cow lovingly raised at Three Sister Farms, then simmered them in a big pot of water for 72 hours and strained out the solids. For dinner, Pope said, she often heats a half cup, adds a little salt, and she's satisfied. It's all she needs.

A total bargain, she thinks: a superfood that's good for Houston farmers, good for the planet and costs a couple of bucks a serving. "Then, too, there's the whole celebrity-chef thing," she said, rolling her eyes: a joke, but not entirely a joke.

Pope is in her mid-50s. She frequently uses the phrase "back in the day," usually with an ironic eyebrow lift. As in, "back in the day," she was the most recognizable chef in Houston, the creative force behind some of the city's hottest restaurants. In the '90s and '00s, in any group photo of area chefs, it was a cinch to spot her: Usually the only woman, she was often also the fittest person in the crew, the most bad-ass, the one who looked most likely to make trouble. An electrified-looking cowlick usually stood straight up from her head, like a thought-bubble exclamation point following one of her expletives.

Pope's last restaurant closed in 2014, and she knows that ever since fans have wondered what happened to her. After her breast cancer diagnosis, there was a rumor that she'd died and another that she'd moved to Brenham (which, for those inside the Loop, is sort of the same thing).

When a stylish elderly woman stopped to buy granola, Pope had a good idea how the conversation would go. As usual, the beginning of the exchange was easy. That's when fans reminisce about their favorite of Pope's restaurants: Sparrow, maybe, or t'afia, Beaver's, Boulevard Bistrot, the Quilted Toque. In the years before the rest of the world caught on to Houston's food scene, Pope frequently made the city proud. Food & Wine magazine lauded her. She was a James Beard Award finalist, appeared on "Top Chef Masters," was invited to the White House.

She was always pioneering some new-to-Houston concept, restlessly moving from thing to thing, going all-in on some half-crazy-seeming idea that only later would prove to be a trend: farmers markets, craft cocktails, locally produced foods from sustainable farms, on-site gardens, specials written on a chalkboard, a restaurant without a parking lot out front, small plates, tasting menus, Texas wines, pop-up dinners out in the country.

The fans, though, soon grow tired of reminiscing. They turn to the present, the future — to the parts that Pope struggles to explain.

Sure enough, the stylish woman asked the question fans always ask: "When are you going to open another restaurant?"

Pope responded the way she always does. "Never," she said flatly.

She smiled to soften the blow and tried to explain. She's uncaged now, a chef without walls, free-range. She caters, hosts pop-up dinners, teaches cooking classes. She's writing a memoir. She has a gazillion projects. You can sign up for her email list on her website.

The fan, processing, looked at her blankly.

It's a common reaction. For the past few years, the people who used to follow Pope from restaurant to restaurant have wondered: What on earth is going on with Monica Pope?

Theory 1 is that, after a run of hard years, she's taping her life back together — attempting to salvage a brilliant career, paying off debts, getting her health back and her head on straight.

Theory 2 is that she's yet again way ahead of the curve — that someday, her pop-up life and gig-economy hustle will seem normal for a high-profile chef. On trend. Visionary, even. After all, why do chefs focus so much on restaurants, which are wildly expensive and burdensome to run, and create artificial experiences for diners? Why not think more about how food is grown, about the ways meals are consumed, about the meal's larger effects on both the eater and the world?

In the dizzying parking-lot heat, both theories seemed plausible.

One day when Pope was 17, she and a swim-team friend hopped a Memorial High School fence and sneaked out to McDonald's. The friend asked Pope what she planned to do after college.

"I'm going to open a restaurant," Pope heard herself say, "and change the way Houston eats."

Pope wasn't sure exactly what she'd meant or where it had come from. Her friend stared. But there it was: the path her life would follow.

As real-life origin stories go, it's a great one — destiny, leavened with light juvenile delinquency — so it's no wonder Pope tells it frequently. It's in the video of her TEDxHouston talk. It shows up in magazine profiles of her. Over the months that I hung out with her, we kept circling back to it.

But only in January did I really get it. That was when Pope casually mentioned, as an aside to an aside to some other story that she'd started telling, that she's struggled all her life with anorexia and bulimia.

She didn't eat that day at McDonald's, she told me. She watched her friend eat.

The change that Pope wanted to make wasn't just to Houston but to herself. To her, food wasn't just about food. It was about love, and control, about who she was and what she was about. It wasn't just the stuff that nourishes the body but that nourishes the soul. And Pope was starving.

From age 9, Pope spent hours every day in the pool, but still, she was a pudgy kid. After swim-team practice, she came home to a lonely 9 p.m. dinner of leftovers. Every night her mom left the same Post-It note on the microwave: "Hotten it up 1 minute."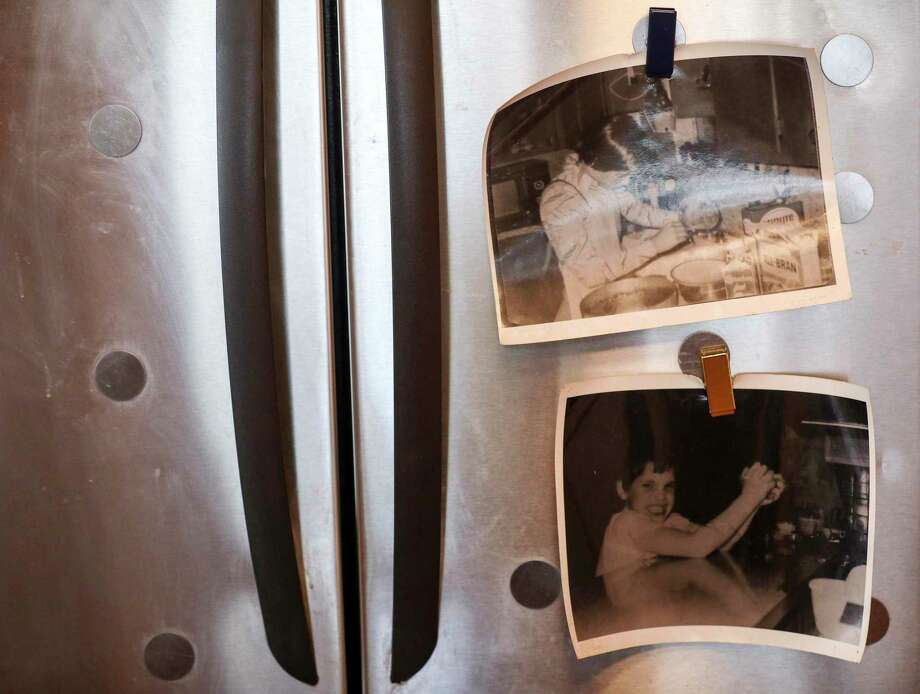 As a teenager, Pope visited her Czech grandmother in Kansas, hoping to learn the family recipes and lore, to hear stories about who she was and where she came from while kneading dough for kolaches and shiski. Her grandmother showed her the baking techniques, but the stories never came.
"This is it?" Pope thought. "This is all I get?"
She got skinny in high school, then gained weight at Goucher College in Maryland. After graduation, she studied a few months in…